Canadian Listed Artist, 1888-1966
Etching signed by the Artist in pencil
Titled: "Ship Building - The Freighter"
Signed: # 5. - ca. 1919 - Toronto Ship Building Yards
This etching is reproduced as #175 in the National Gallery Book "A New Class of Art"
w. 10 in. by h. 12 in.
Archivally Framed

SOLD
Dorothy Austin Stevens RCA, CPE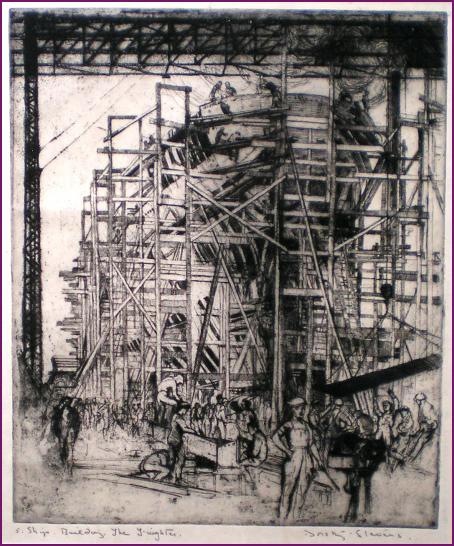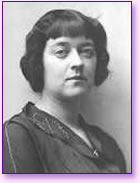 Dorothy Stevens was one of a few remarkable women who received a commission, in September 1918, from the Canadian War Memorials Fund and she subsequently created six etchings of the Canadian home front during WWI.

Born in Toronto in 1888, she had a father who loved to paint and he quickly recognized the huge talent in his 15-year-old daughter. When his work took him to England, he enrolled her in his old art school—the Slade School of London. After Slade, Stevens went to Paris for two years where she continued her art at the Académie Colorossi. While there she developed an interest in etching.

On her return to Canada she turned to portrait and figure painting, which became her signature style.

In all, the CWMF commissioned more than 20 artists to document the home front. Only four of them were women. Stevens approached the CWMF with a proposal to create a series of prints that would detail work in the munitions plants as well as in aeroplane and shipbuilding construction. These commissions met with critical acclaim and were hailed as some of the most successful works in the Canadian War Memorial exhibitions that toured from 1919-24.

The artist's busy compositions focus on the female worker amid the hustle and bustle of factory work. Her graceful figures pose like dancers while the vertical lines of factory cables and pulleys create an interesting backdrop. Stevens is an exquisite sketcher and her six etchings are a wonderful contribution to our Canadian collection.

Throughout her life, she loved to travel and she captured the faces and landscapes she discovered along the way. Mexico was a particular favourite. For several years she taught at the Ontario College of Art. Dorothy Stevens was also very well known for her vivacious personality, and that energy and enthusiasm today are as much remembered as her art. She was a member of the Chicago Society of Etchers and was awarded a silver medal for etching at the Panama Pacific Exposition, in San Francisco in 1915.

Dorothy's artwork is in the permanent collections of the Canadian War Museum, the National Gallery of Canada, the Art Gallery of Ontario as well as many other private, public and corporate galleries world wide.
Dorothy Passed away in 1966.
Dorothy Austin Stevens RCA, CPE Canadian Artist Printmaker