Listed Canadian Artist: (1877-1954)
Drypoint Etching: young girl sitting on canoe playing violin.
Signed: On the plate and dated 1932 and in pencil on the margin.
Titled: " Summer Airs" under mat, see photo below.
Image Size: w. 6" by h. 7".
Condition: pristine with no issues.
Framed: Archivally matted with acid-free materials throughtout.

Please enquire regarding price
William John Wood CGP, CSGA, CPE
A Note of Interest: William Wood often incorporated the people, settings and occasions around him in many of his paintings, drawings and etchings. So it is beleived that the violinist model he etched here was actually his wife.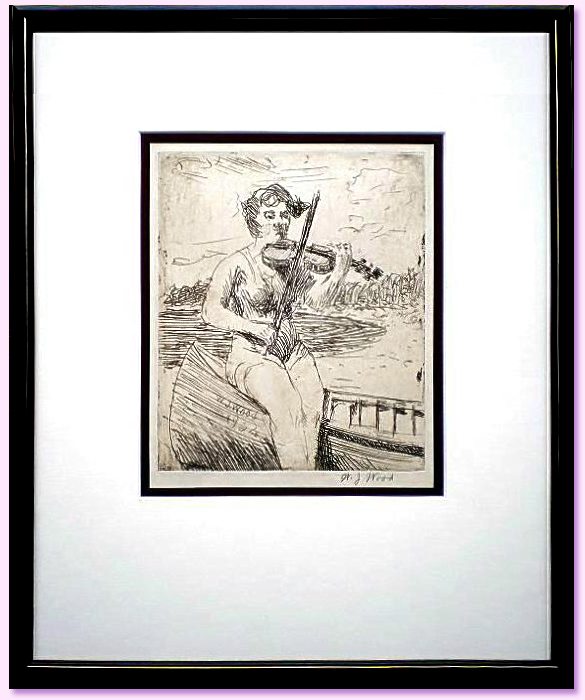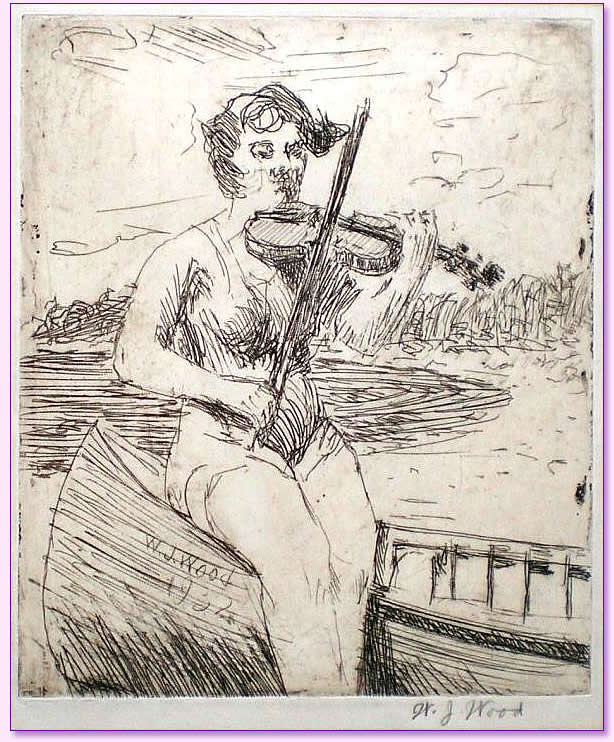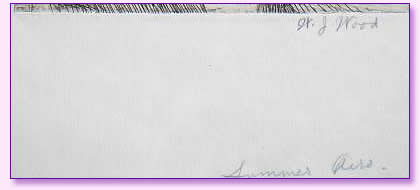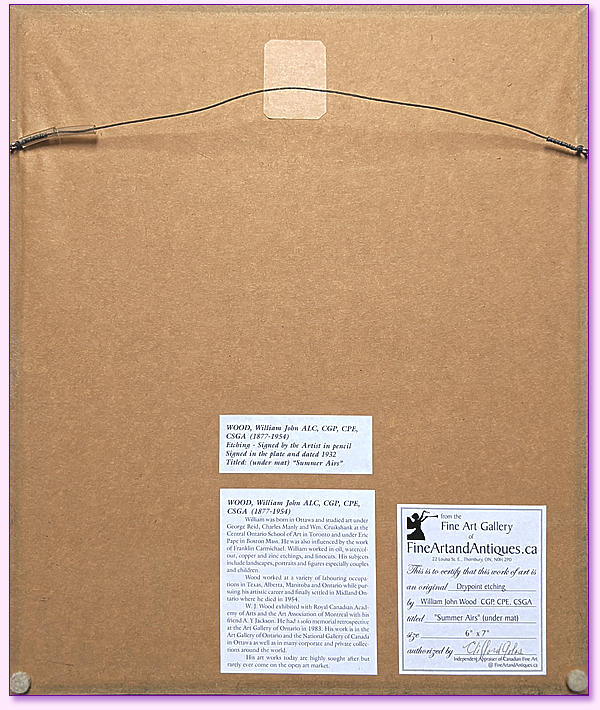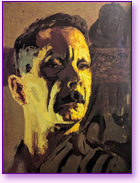 William was born in Ottawa and studied art under George Reid, Charles Manly and Wm. Cruikshank at the Central Ontario School of Art in Toronto and under Eric Pape in Boston Mass. He was also influenced by the work of Franklin Carmichael. William worked in oils, watercolours, and created copper and zinc etchings, and linocuts. His subjects include landscapes, portraits and figures especially couples and children.

W.J. Wood worked at a variety of labouring occupations in Texas, Alberta, Manitoba and Ontario while pursuing his artistic career and finally settled in Midland Ontario.
Wood exhibited with Royal Canadian Academy of Arts and the Art Association of Montreal with his friend A. Y Jackson. He had a solo memorial retrospective at the Art Gallery of Ontario in 1983. His work is in the Art Gallery of Ontario and the National Gallery of Canada in Ottawa as well as in many corporate and private collections around the world.
His art works today are highly sought after, but rarely ever come up for sale on the open art market. Through his association with A.Y. Jackson and with his proding influence, it has been considered that he could have become a member of the Group of Seven potentially making it the Group of Eight, had it not been for the responsibility to financially support his large family.
William John Wood passed away in 1954.
Print Ref No: 4IEX10WEB-S/TTOEX
William John Wood CGP, CSGA, CPE, Canadian Artist Printmaker