Listed Canadian Artist: (1892-1977)
Drypoint Etching: Signed in pencil by the Artist
Titled: "Royal Museum" The Royal Ontario Museum in the 1940's and numbered: 34/50
Image Size: w. 4.25" by h. 5.25"
Print Condition: Clean, bright with no flaws
Framed: Size 11" x 13" Archivally Matted and acid-free materials throughtout

Please enquire regarding price
Take note: Many of the etchings created by Harry were produced in low numbers of around fifty copies of each hand-pulled print. Think of that in terms of artist's prints produced today and ask yourself where the true value is to be found. Harry, along with other artists in his day such as Fred Jopling, also felt that they did not want to mass reproduce their works, as they felt that would not allow each print to hold it true value over time.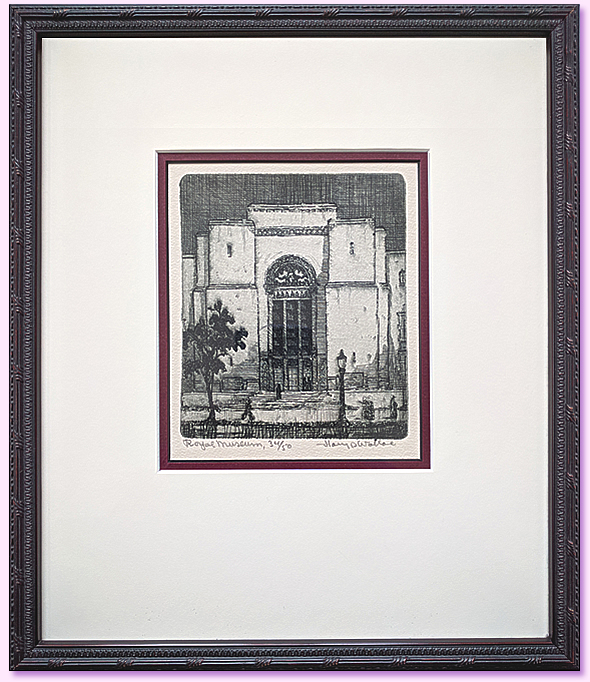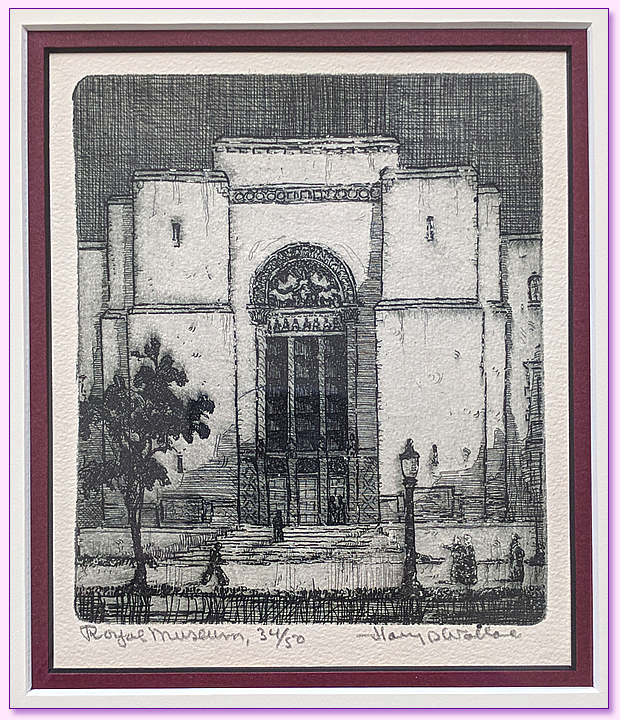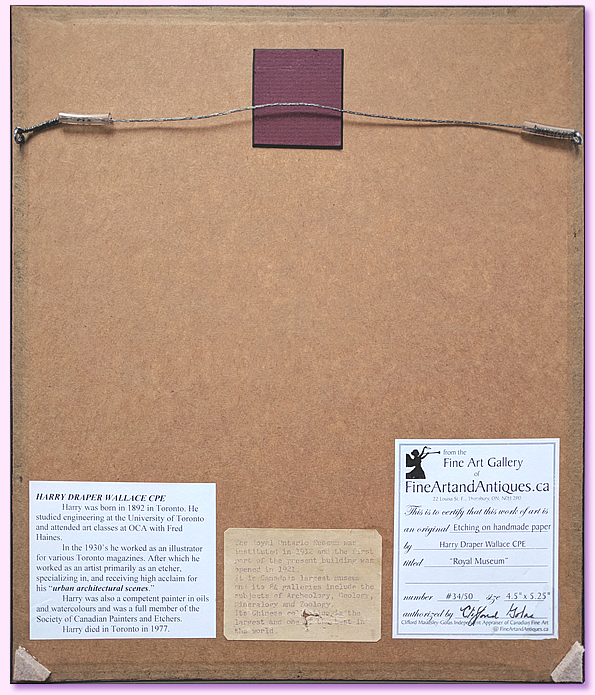 Harry was born in 1892 in Toronto. He studied engineering at the University of Toronto and studied art under Fred Haines at the Ontario College of Art.
In the 1930's he worked as an illustrator for various Toronto magazines such as, Canadian Comment, Gossip, and Homes and Gardens. After those years he worked as an artist primarily as an etcher, specializing in, and receiving high acclaim for his urban architectural scenes. Harry was involved in numerous art shows over the years produced by the Canadian Society of Painters and Etchers
Harry, who is best known for his urban, architectural and historical scenes, was also a competent painter in oils and watercolours and was a full member of the Society of Canadian Painters and Etchers. He was fond of plein air painting rural life settings in the Muskoka region of Ontario.
Harry passed away in Toronto in 1977.

Print Ref No: 9MMX17PRI-S/BEEX